Description
Suopte StellaSphaera is an application with which you can create a do-it-yourself (DIY) paper maquette of the night sky. The scale model fabricated from the generated PDF is an inside out celestial sphere, it is a skyglobe with several astronomical objects on it visible with naked eyes (88 constellations from the IAU catalogue and up to 4995 stars). Suopte StellaSphaera may be helpful for amateur astronomers who watch the night sky with naked eyes or low performance telescope learning about constellations and stars. It may also be recommended for paper maquette/scale model funs, who would like to enrich their collection with a special piece.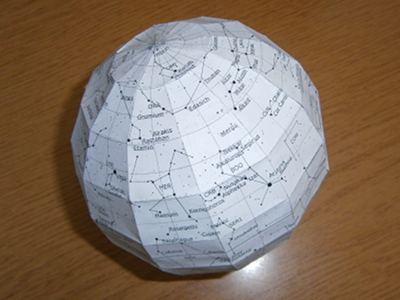 Prerequisites
You can fabricate your own scale model in 3 major steps (1. generating PDF; 2. printing; 3. assembly). The third step requires some manual skills. The whole procedure takes about 2-6 hours depending on the smoothness of the sphere. For the assembly of suopte StellaSphaera you'll need
5-20 sheets of A/4 format paper (depending on the diameter and smoothnes of the maquette)
a printer
a pair of scissors
a ruler (preferably at least 30 cm long)
some glue
optional: a pair of calipers
Generating StellaSphaera PDF
Before generating the blueprint of the scale model you can adjust several parameters according to your needs (click Adjust preferences tab below), but if you are not sure, you can also use default settings for a 12 cm StellaSphaera model (click Generate PDF button).
Before generating StellaSphaera PDF please confirm that you are not a robot, but a human person by solving the image recognition test below.

Confirm human

Adjust preferences
Scale model
Vertical segments (right ascension ring count)
Horizontal segments (declination ring count)
Color scheme
| | | |
| --- | --- | --- |
| Black & white | Klepesta-Rükl | Night sky |
Stars
Star name magnitude treshold
Constellations
Constellation name font size
Lines

Please type the word in the image into the input field
above without accents and all lowercase!
Instructions for the assembly in pictures
Sources
Legal notices
The source code of this project is proprietary. The generated PDF documents can be used absolutely free of charge for non commercial purposes. Redistribution of the generated PDF files in any form (e.g.on other websites, printed sheets) is not allowed. All rights reserved.
Request for Feedback
Please take a little time to give me feedback about the application and use the
bence@suopte.com
email address to
report a bug
tell what should be improved
request new functions
request new color schemes
send photos of your own maquettes.
Photos would be used to create a user contributed gallery of StellaSphaera maquettes to demonstrate various settings and color schemes.
Your opinion or contribution would be highly appreciated.